Website maintenance in Rajasthan - Jodhpur
Wednesday, 4 June 2014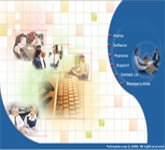 Contacts

Nitin Maheshwari

8561903387
Item description
Contact Information:
Contact Name: - Nitin Maheshwari
Mobile number: - 8561903387
Address:- E-123, Kalpatru Shopping Centre, Opp. Manidhari Hospital Road, Shastri Nagar, Jodhpur
Email: - mail@pheunix.co.in
Visit us: - httppheunix.co.in
We Pheunix Technologies in Rajasthan are known for website promotion services in Rajasthan and we know that running a business especially on the Internet is no easy job. One has to keep a website and maintain in such a way that it remains visible to online visitors every single time. Our web promotion experts use various innovative strategies to keep your website active and improve webpage traffic on your website. In web promotion services we put all our efforts in increasing the conversion ratio on your website, which hugely depends on visitor.
With our effective web promotion services or marketing campaign services in aimer, you will surely increase the number of visitors on your website and generate leads. Our team of experts dealing in market promotions or web promotions provides website optimization and focus mainly on proper website marketing solutions and Internet marketing techniques for your website. We pheunix at Rajasthan make use of proven web promotion methods to put your website on top of search engine rankings to get maximum target traffic on your website.